Self management of enterprises

Shandong is the birthplace of Confucian culture , the dignified and pristine background of Qilu culture breed the blue horizon personality "Benevolence, Courtesy, Integrity, Harmony, Upright, Loyalty, Diligent, Intrepid, Responsibility, Exquisite". The religion, in the words of group chairman zhang,chun-liang , is the essence of Chinese traditional culture. Adhering to the guiding idea that is "Confucianism as the foundation, set up enterprise culture with blue horizon characteristics" , blue horizon hotel group started the process of "learning Sinology for ten years" since December 2007 , for the high-level management personnel to implement systematic traditional sinology education. Group had organized the internal Confucius teaching materials, "Blue Horizon Analects" , and equipped with a "blue horizon sinology lecturer", who committed to the infiltration and promotion of blue horizon sinology. In the group, no matter how busy the business are, all senior managers will take one to two days per month of fixed time to learn traditional Chinese classics, armed by absorbing Chinese traditional wisdom mind, raise their level and self-cultivation. Monthly large-scale thousands of people Sinology salon, has become the scenery full of connotation in the process of building learning organization.


Besides the sinology education for senior management personnel, since March 2012, blue horizon hotel group also started the Analects training for internal college students. By self-developed new forms, both of depth and practical and interesting notes, the group toke key chapters of Analects into the corporate culture and interpret to college students in detail.

perseverance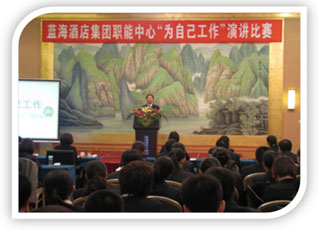 Through the perseverance of long-term learning mechanism, managers and college lovers have deepened the understanding of the Analects of Confucius. The group formed a strong academic atmosphere of learning. After years of sinology learning, the realm and cultivation of the managers have been obvious improved.

For the qualifications of staff are not high, the original Confucian culture will inevitably become obscure. In view of this situation, on the one hand, the blue horizon management transfer the Confucian culture on the philosophy of life to the employees through the "teaching", on the other hand, to carry out quality education based on Confucian culture in all staff, such as "rite", "filial piety", "integrity", "benevolence", "good faith", combined with the actual cases, in work and life in order to allow employees to explain profound theories in simple language, love to see and hear.
Through the influence of traditional culture, the staff become refined and cultured, natural and graceful and with rich connotation, contains a Chinese traditional etiquette, obtained unanimous recognition and praise of customers. For the guests to provide "Chinese style hospitality ceremony", "all the time, let the guests enjoy the serene time of blue horizon", this is the service location with China unique traditional culture.

Da Dao Lushang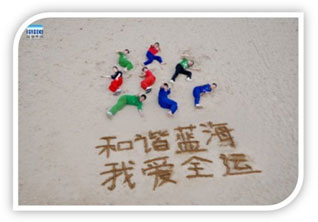 In 2013, the documentary "Da Dao Lushang", co-produced by CCTV, Shandong Provincial Party Committee Propaganda Department, Organization Department, was broadcast on CCTV, Shandong TV. The documentary was filmed in the background of Qilu culture, showing the contemporary new style. In the film, the practice of blue horizon sinology education, taking Confucianism as foundation, gained a high evaluation.